Alarm From the Smoke In August 1831
I remember it well in late May-July 1998 when multiple periods of dense smoke moved over the Tri-State.  On one day, it looked oddly overcast, despite sunny skies with the sun a faint glowing bluish/yellow/greenish ball in a gray/blue to golden sky.  The sun would look deep, deep red in the gray to rust colored sky in the evenings.
This was dense wildfire smoke from major wildfires over drought-stricken Texas, Louisiana & even into northern Mexico, southward through Central America.  Massive acreage of the Piney Woods of east Texas was burned.  Also, in Florida, massive wildfires were burning with hundreds of thousands of acres of pinelands & wet, boggy prairies & palmetto barrens ablaze.
A similar situation occurred in summer 1831, but there was likely even more smoke, given the fact that the area ablaze was wilderness.  Such a mass fire, with few firebreaks, likely burned for months.  It may have been started by lightning, as the custom of Native American burning was usually confined to fall, winter or early spring to encourage new growth for grazers.  Even in our area & especially north & northwest of the Tri-State, tree rings & swamp/marsh layers show that wildfires of varying frequency occurred in pre-European time.
Dense smoke from massive fires Texas to Arkansas to Louisiana in an area of Extreme to Exceptional Drought (on the PDSI scale) produced a blanket of smoke across the eastern & southeastern U.S.  The sun was bluish/green during the day with a gray sky & sunspots clearly visible, as reported in Macon, Georgia, Vicksburg, Mississippi, Raleigh, North Carolina & Atlanta, Georgia to Washington D.C.  The sun was a pink to red ball with clearly-visible sunspots in the evenings.  Even in the Tri-State there is mention of the oddly gray, hazy sky & dimmed sun.  Such reports occurred as even at Albany, New York & Boston, Massachusetts.
There has been an incorrect statement among historians that Mt. St. Helens erupton produced this smoky sky, but that area is well to the northwest in Washington & only small eruptions with ashfall occurred 1831-1857.  The largest eruption was in 1842.  It would take a major eruption & unseasonably strong upper trough to bring that to Texas, Arkansas to Georgia, our area & the Northeast.  Southerly winds dominated the extremely dry, hot summer at Fort Snelling (present-day Minneapolis-St. Paul) with a 92 & southerly winds on August 16, near peak smoke time in areas to the Southeast (& Mississippi River "very low").
Smoke reconstruction (July-August), based on reports & reported surface winds from government observers at the time & drought to fire reconstructions via tree rings all point to similar areas to 1998 on fire…..except Florida.
The pattern also looks similar to 1998 in many respects with wet conditions in our area & northeastward.
Southwesterly winds, typical of the summer period, around the Bermuda High, brought the smoke far northeastward at times in both occurrences.
Records, for example, from College Hill, Ohio (northwest of Cincinnati) show persistent high humidity & southerly to southwesterly winds with 80s & 90s at the time.
It was this odd sun & sky that led to panic & fears of the apocalypse & Divine wrath among residents at the time.  Nat Turner took this as a sign from God to lead his people from the Promise Land, like Moses.  He organized a slave revolt in Virginia (among other revolts in the South), which resulted in many escaping (though many were captured when government militia was dispatched to put down the revolt).  Some of these slaves made it to the mid & upper Ohio Valleys permanently, out of slavery territory.  Nat Turner was eventually captured by government forces in the Dismal Swamp area of Virginia-North Carolina & killed.  Sadly, 55 slaves were reportedly executed by government forces.
It was a dark time period not only in reality, but also figuratively-speaking & it stemmed from a 1998-style drought.  A solar eclipse in the South February 11, 1831 also brought about a trigger for revolt & led to widespread discussion & even panic.
May 12, 1998 visible satellite image of smoke migrating north & northeastward……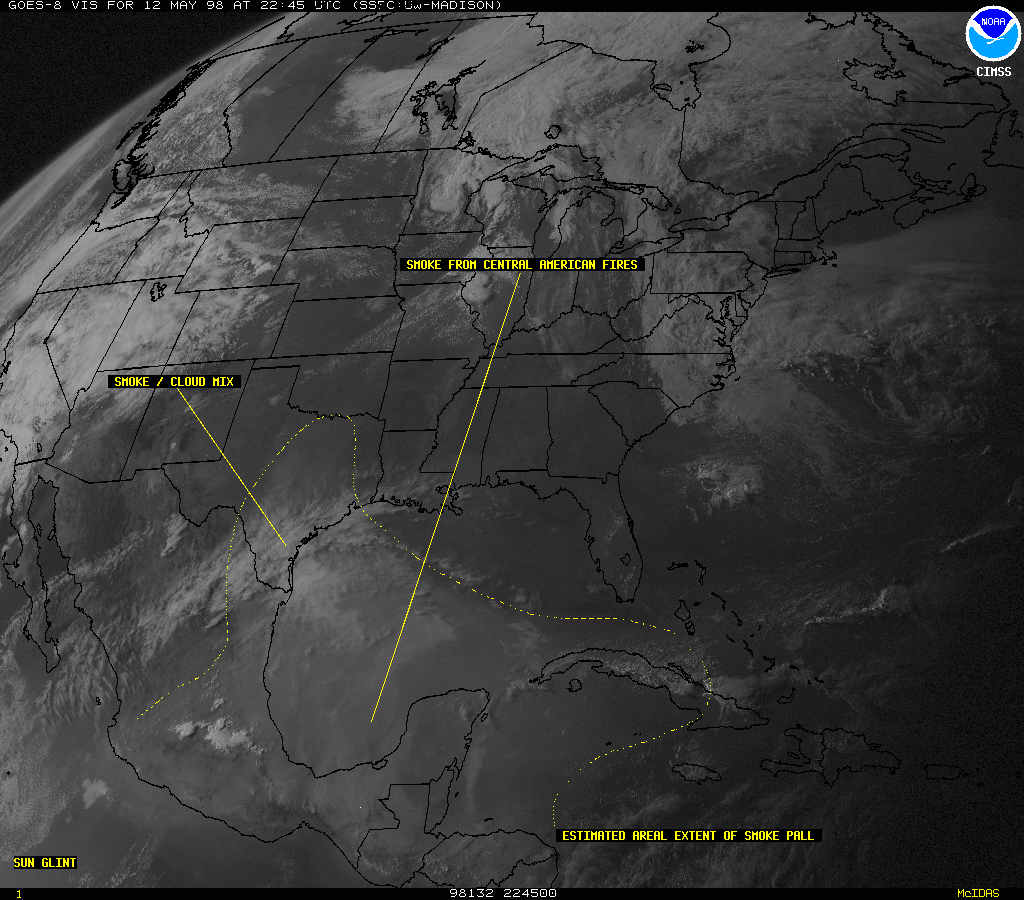 Nat Turner
Comments
comments